The Bard undergraduate classical vocal program is deeply committed to the development and nurturing of young singers while providing them with the tools they require for a professional career in music or vocational aspirations beyond college.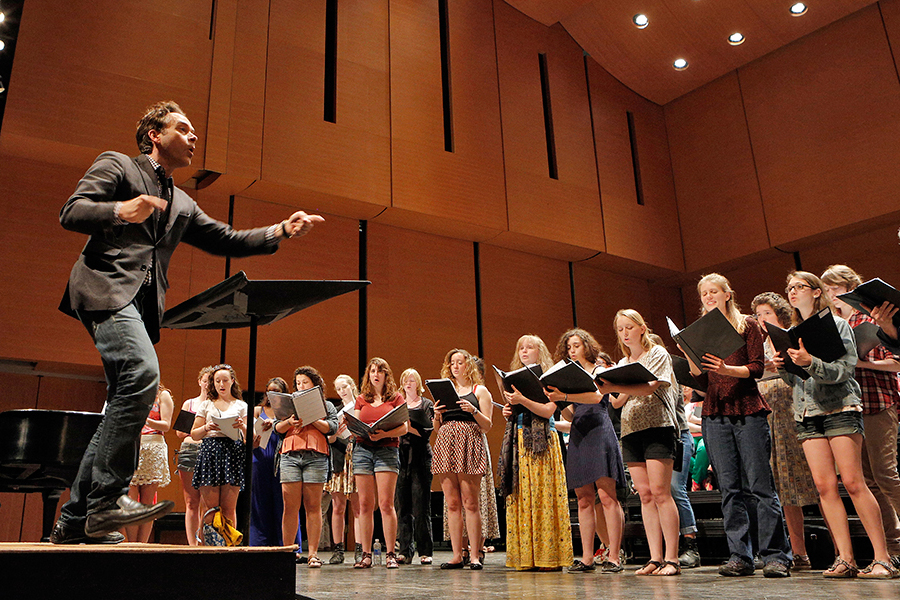 Studying Classical Vocal Performance
Employing vocal techniques and performance skills used by world-class singers, we educate our students in musical history, theory, languages, movement, and stagecraft. Our voice faculty collaborate in teaching a consistent vocal technique in intensive private lessons. Moderating voice majors additionally benefit from complementary vocal coaching that ensures a diversity of musical perspectives. Together, our priorities are to meet the individual vocal needs of our students and to offer a thoughtful variety of performance experiences.
Performance Opportunities
Performance opportunities include: fully staged opera excerpts with orchestra; recitals in conjunction with moderation and senior projects, performance workshops, and the baroque ensemble; and choral concerts featuring a wide range of repertoire. Students are also encouraged to create their own opportunities by seeking collaboration with their peers. All performance opportunities prioritize a supportive creative environment that encourages students to observe and learn from each other while building their own confidence through practice and experience.
Blumen in Bloom: Flower songs in German and English
Rufus Müller's Performance Class Recital
Arts songs about flowers in English and German by Beach, Brahms, Burleigh, Alma Mahler, Fanny and Felix Mendelssohn, Price, Quilter, Clara and Robert Schumann, Schubert, Smyth, Strauss, Vaughan-Williams, and Wolf. Livestreamed from the from the László Z. Bitó '60 Conservatory Building in Spring 2023.
Classical Vocal Performance Faculty
James Bagwell
(chair) – Choral Conducting and History
Teresa Buchholz
– Classical Voice, Opera Workshop
Ilka LoMonaco
– Classical Voice, Opera Workshop, Vocal Pedagogy, Feldenkrais and the Voice
Rufus Müller
– Classical Voice, Opera Workshop, Performance Class
Erika Switzer
– Vocal Coaching, Diction, Collaborative Piano
David Sytkowski
– Vocal Coaching, Opera Workshop Music Director, Collaborative Piano