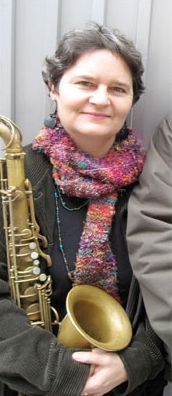 About Jessica Jones
Email: [email protected]
Website: https://www.jessicajonesmusic.com/
The face of my music for the last 20 years has been my Quartet. It was conceived with my husband Tony Jones, and first came into the world under the name Rhythm Crush, which soon evolved into the Jessica Jones Quartet. Tony and I both compose for the band. Personnel has changed over the years, but we've always been privileged to play with wonderful creative musicians. The core group is a pianoless quartet of two tenor saxes – myself and Tony – and bass and drums. We often augment the group with extra horns, voices, and other special guests. And sometimes I play the piano, which would make Mrs. Runkle proud.
The Jessica Jones Quartet is an improvising jazz ensemble which performs original experimental music. Their music derives from the jazz tradition using structured original compositions as a framework for freer improvisation. Combining two tenor saxophones with bass and drums, the group creates an exciting, robust new soundscape. Working with drummers and bassists on the forefront of the experimental jazz scene has allowed the group a level of exploration that gives birth to a unique sound. The compositions of Jessica Jones and husband and fellow tenor saxist Tony Jones are currently given life by the innovative and energetic rhythm section of drummer Kenny Wollesen and bassist Stomu Takeishi. The eclectic musical backgrounds of the band members infuse the music with the energy and creativity of new textures while remaining firmly rooted in the jazz tradition.
The Jessica Jones Quartet has played in the Knitting Factory Festival in NYC, and the Eddie Moore Jazz Festival in Oakland, California, where the group headlined with special guest Don Cherry. The group has been featured in venues on the east and west coasts of the US and released two CDs (Family on Nine Winds, Nod featuring Connie Crothers and Joseph Jarman on New Artists) to critical acclaim. Their most recent release, Word (New Artists), features vocalist Candace Jones, poets Arisa White and Abe Maneri, and french horn player Mark Taylor as well as young lion saxophonist Dayna Stephens holding down the bass chair for much of the CD.
Poets, storytellers, and other collaborators from Tristano-lineage pianist Connie Crothers to innovative jazz French horn player Mark Taylor have been augmenting the core quartet as the band continues to explore creative alliances and seek new adventures.
Leader Jessica Jones plays tenor saxophone and piano and composes most of the band's music and has worked with Joseph Jarman, Cecil Taylor, Steve Coleman, Don Cherry, and Peter Apfelbaum; as well as a variety of Haitian, Caribbean and African bands. These influences helped form her compositional direction which is grounded in the jazz tradition and, as is truly traditional in jazz, reaches for new directions and a unique sound. Aside from working and recording with the Jessica Jones Quartet, Jessica is active as a sideman. In addition to the Quartet recordings, Jessica's discography includes:
Multikulti–Don Cherry–A&M Records
It Is Written–Peter Apfelbaum–ACT Records
Lifetime Visions–Joseph Jarman–Bopbuda Records
Marco Enedi-Glenn–Spearman Creative Orchestra Music and Arts
Festivals as a sideman include:
Vision Festival, NYC—Joseph Jarman Sextet, Lifetime Visions Orchestra and Joseph Jarman Quintet
Nancy (France) Jazz Festival Lifetime Visions and the Orchestra
Chicago Jazz Festival–Joseph Jarman, Leroy Jenkins, Myra Melford
Jessica has begun incorporating spoken word artists as well as the lush vocal stylings of daughter Candace Jones into her compositions, finding great inspiration in the textures of new collaborations.