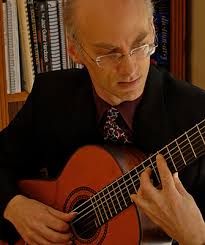 About Greg Dinger
Email: [email protected]
Website: https://gregdingerguitar.com

Greg is the child of musical parents (his mom was a pianist and his father a cellist with the New York Philharmonic). In addition to Dalcroze/Eurythmy training as a child he studied the piano until his early teens (with Katerina Rado, Edgar Roberts and Jacqueline Marcault), and credits those early experiences for much of his strong musicianship. Greg began to play guitar as a youngster,
like so many others of his generation, inspired by The Beatles and others rock performers (though he began with a Joan Baez folk music songbook). He formed his first band in 7th grade and played in it throughout much of high school.

In 9th grade Greg became interested in the classical guitar, and began his study of it with the area's leading teacher, Luis Garcia-Renart (also a prize-winning cellist & conductor). Greg studied with Garcia-Renart for 4 years and then went to Boston's New England Conservatory of Music, from which he received his Bachelors of Music degree with honors in 1980. At NEC he studied with Robert Paul Sullivan and Frank Wallace, formed the Parnassus Guitar Duo, and gave the school's first all-solo graduating guitar recital. At the start of his career in the 1980s Greg played in masterclasses of several of the world's leading classical guitarists: Manuel Barrueco, Eliot Fisk, Frederic Hand, Sharon Isbin and Christopher Parkening.

After returning to Woodstock, N.Y., where he grew up, Greg began teaching the guitar, and soon was teaching various guitar styles several days a week at Allegro Music in Kingston. In the 1980s he also became the classical guitar instructor at SUNY New Paltz and Bard College and began teaching guitar & other music subjects (music theory & history) at Ulster County Community College in Stone Ridge (now called SUNY Ulster). In the 1990s he began teaching the Classical Guitar Seminar at Bard and Greg is still the classical guitar instructor for their Music Dept. Greg also plays each year in the Faculty Showcase concerts and often presents recitals at these schools. At present Greg teaches private lessons primarily at his home music studio in Woodstock, N.Y., and is also affiliated with Barcone's Music, in Kingston, NY.

Greg has been involved with a large variety of music groups throughout his career, from chamber music ensembles to rock bands to orchestras. In the 1980s he played in a heavy-metal group called "Uncle Sam" as well as in the blues & originals "Ben Prevo Band." In the 1990s he played Beatles & Eagles songs in "The Beagles" and a variety of guitars in a folk-pop-oldies group called "TimePieces."
Lately Greg has played guitar & sung in "Decoy" (2015), the "West Saugerties Boys" (2016-18), and currently with "Fishbowl" and "Rare Bird."
In the course of his performing career Greg has played electric guitar, steel-string & nylon-string guitars, banjo and mandolin
in a number of musical theater productions including "The Three-Penny Opera," "Tommy," "Little Shop of Horrors," "Footloose," "The Sound of Music," "The Marvelous Wonderettes," "Evita," "8-Track: The Sounds of the 70s," and "Honky Tonk Laundry."
As a classical guitarist Greg has been a member of several chamber music ensembles, including the Arabesque Trio (flute, guitar & bassoon; formerly: Trio Con Brio), the Catskill Mountain Renaissance Consort (recorders, viola da gamba, guitar & hand percussion), Cantilena (flute & guitar; formerly: Interlude), and the SAGAD Trio (viola, guitar & cello). Greg's talents as an arranger — taking music originally intended for one instrument or ensemble and creatively recasting it in a new setting — have produced most of the repertoire of these groups. Years ago he published through Music Arts Graphics; now his GDG Editions — music for solo guitar & guitar in ensemble — are available through this website.

With the Arabesque Trio he has recorded a CD of music by Debussy, Bach, Faure, Mozart, Granados, Handel, Joplin, Ligeti, de Falla, Bartok & Lennon/McCartney titled "Reverie." Available from his website.

Many people in the Hudson Valley fondly remember his 15+ years providing live classical guitar music on weekends at Joshua's Cafe in Woodstock. Greg has played over the years with many of the best instrumentalists and singers in the Hudson Valley: violinists Carole Cowan and Akiko Kamigawara, cellists Susan Seligman, Ling Kwan & Jean Vilkelis, violist Anastasia Solberg, flutists Marcia Gates, Pauline Mancuso, Lynn Peck, Sarah Plant, Melissa Sweet and Marisa Trees, oboist Joel Evans, clarinetists Tony Penz and Kay Sutka, classical guitarists Terry Champlin & Helen Avakian, David Temple and Richard Udell, fiddle & guitar duo Jay Ungar & Molly Mason,
and singers Harvey Boyer, Kimberly Kahan, Cecelia Keehn, Jonell Mosser, Anita Shamansky, and Danielle Woerner, among others. In the 1990s Greg was a member of the early music acapella group Woodstock Renaissance, and he has sung (bass) with Ars Choralis since the 1990s; he is currently that organization's president too. He frequently accompanies them in music that involves various types of guitars, and has arranged a number of songs for them: several Beatles songs, The Beach Boys' "Good Vibrations," Springsteen's "American Land," and an ambitious setting of "Where Have All The Flowers Gone" (premiered in 2014). The chorus has gone on tour to Europe several times in the 21st century, always with Greg & his guitar! Greg also did the instrumental music arrangements for Ars Choralis' "Music in Desperate Times" program which they performed in NYC's Cathedral of St. John the Divine as well as their 2009 tour to Germany. Greg's also been the curator of Ars Choralis' "Artist Within" series of concerts at the Sheeley House in High Falls, NY, including Valentine's Day-themed shows, a folk "jamboree," the "Just For The Fun Of It!" show, several classical recitals, a Kung Fu martial arts (Greg's hobby for 35+ years) demonstration, and 2017's "A Night In Argentina."

Interested in learning Kung Fu? Greg teaches the Fu Jow Pai style, as an assistant to his sifu, at Woodstock's Mountainview Studio
on Monday evenings.

Greg also programmed & hosted WDST radio's innovative classical music show "Sunrise Concert" for over 25 years starting in the mid-1980s (and winning Hudson Valley Magazine's Best Classical Music show award for 1996); and for a number of years he reviewed classical CD releases for the Kingston Daily Freeman's "Preview" magazine.

More recently Greg helped form the Mid-Hudson Classical Guitar Society, presenting their first concert at the Morton Library in Rhinecliff in 2010, and closing their 8th season in May 2017.

Greg directs & arranges music for SUNY Ulster's Guitar & Mixed Instrument Ensembles, producing new arrangements of music ranging from Renaissance pavanes to Haydn piano sonatas, solo guitar pieces expanded, and a variety of famous songs including:
"Tico Tico," "Miserlou," "Fever," "Someone To Watch Over Me," "Shenandoah," "Down On The Corner," "Billie Jean," "Everybody Wants To Rule The World," "Fragile" & several Beatles medleys, and an original minimalist piece: "Blip, Blop, Plink, Plunk, Ting & Bong." Greg became involved with the Woodstock Chamber Orchestra soon after graduating from NEC and returning to Woodstock (when that orchestra was forming); he played the popular Vivaldi Concerto in D major with them in 1980. Since then he has performed works for guitar & orchestra with them several times: Herbert Haufrecht's "Divertimento" in 1985, Heitor Villa-Lobos' Guitar Concerto in 1993,
the "Fantasia para un Gentilhombre" by Joaquin Rodrigo in 1999, and his famed "Concierto de Aranjuez" in 2004 and again in January of 2018. In the fall of 2018 the orchestra became the Woodstock Symphony Orchestra. Greg has served as president of the WCO since 1995, seeing the orchestra through several Conductor Searches, and he's organized & played in numerous fundraising concerts for the WCO over the years.

Greg also played with the Hudson Valley Philharmonic in their "New Wave" concerts in the 1990s, backing Sterling Morrison of The Velvet Underground, and providing support for singer Natalie Merchant. One of his toughest musical challenges was negotiating the guitar part for Frank Zappa's "Alien Orifice" with the HVP when no other guitarist around could do it! Greg also played solo guitar as the "opening act" for that concert. He's also opened for Leon Redbone and "3" (Emerson, Palmer & Berry) at The Chance in Poughkeepsie. Greg has also played with other top Hudson Valley music organizations including Cappella Festiva, the Mendelssohn Club, the Gilbert & Sullivan Musical Theater Company, the Pone Ensemble and the Hudson Valley Recital Project.