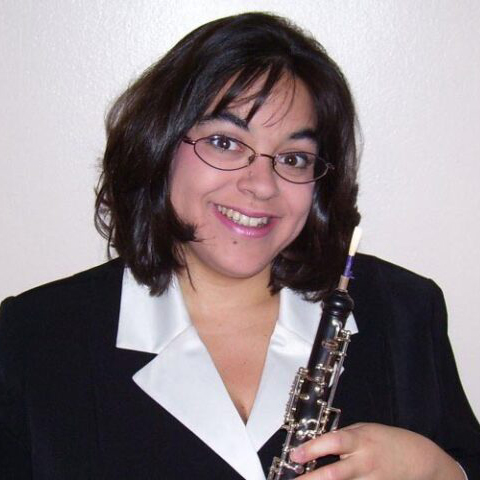 About Allison Rubin
Email: [email protected]
Website: https://www.allisonoboe.com
Phone: (917) 882-0569
Gmail: [email protected]

Allison Rubin has devoted her life to performing and teaching oboe. Allison received her Bachelor of Music degree from The Juilliard School and her Master of Music degree from the Yale School of Music. She studied oboe and english horn with Lois Wann, Ronald Roseman, John Ferillo, and Humbert Lucarelli. Ms. Rubin has participated in orchestral repertiore master classes with John Mack and Elaine Douvas, and chamber music master classes with The New York Woodwind Quintet at The Juilliard School. She has had the honor of performing in master classes for Luciano Berio, Samuel Adler, and Gerry Mulligan. Her talents have been recognized through honors and awards from prestigious institutions including the New York Philharmonic, The Juilliard School (woodwind scholarship recipient) and Yale (full merit scholarship recipient). Having diverse musical interests, Allison studied composition, theory, solfege, computer music, and jazz in addition to years of classical music.

Ms. Rubin is Oboe Faculty for Bard College, Hartwick College and Dutchess Community College. She has been a faculty member for various music schools and summer programs since the late 1980s including The Children's Orchestra Society (LI), Usdan Center for the Creative and Performing Arts (LI), New York State Summer Music Festival (Oneonta), Norwalk Youth Symphony (CT), Sylvan Academy of Music (NJ), Montclair Kimberly Academy (NJ), Mountain Laurel Waldorf School (New Paltz), New York Conservatory for the Arts (Hudson Valley), DCC Academy of Music (Poughkeepsie, NY) and the Empire State Youth Orchestra (Albany, New York). Allison has served as principal oboist for Bard's Conductor's Institute ensemble under the direction of Harold Farbermen. Ms. Rubin has adjudicated for many competitions and audition panels including the Long Island Philharmonic Young Artist Competition, Empire State Youth Orchestra and the Children's Orchestra Society Discovery Competition. She has maintained a private oboe instruction studio for over twenty-five years. Her teaching specialties include oboe, ear training, music theory and reed making.

Although classically trained, Ms. Rubin has performed and recorded with artists of many musical styles. Over recent summers, Ms. Rubin has performed with the Belleayre Festival Orchestra ("music of Queen", and Bethel Woods Summer Concert Series ("music of Jerry Garcia, "Tommy" with Roger Daltrey…music of the Who), and "Rocktopia" with the Hudson Valley Philharmonic. A few performance highlights include performing with Natalie Merchant in her "New American Songs" with the Esopus Chamber Orchestra, and performing in Peter Schickele's folk songs with the Woodstock Chamber Orchestra. She has performed with jazz legend saxophonist Gerry Mulligan, guitarist Simon Wynberg, Tokyo String Quartet's first violinist Martin Beaver, composer Mike Hollober, improvisational conductor Butch Morris.
On oboe, oboe d'amore and english horn, Allison has performed with a vast number of classical ensembles including the Hudson Valley Philharmonic, West Point Concert Band, New Jersey Pops Symphony, Yale Repertory Theater company, the Hudson Opera Theatre, the Bronx Chamber Orchestra, the Woodstock Chamber Orchestra (Principal Oboist), Esopus Chamber Orchestra (Principal Oboist), Woodstock Symphony Orchestra (Principal Oboist), Greater Newburgh Symphony Orchestra, Northern Dutchess Symphony Orchestra, Catskill Symphony Orchestra, Altamura Music Festival, Bronx Opera Company, and others. She has performed in prestigious concert venues such as Carnegie Hall, Weill Recital Hall, Alice Tully Hall, the Bardavon, Maverick Concerts, and Merkin Concert Hall.

Ms. Rubin has performed as an English Horn soloist in "Quiet City" with the Chamber Orchestra of the Bronx. With the Woodstock Chamber Orchestra, Ms. Rubin performed as the soloist for Handel's "Oboe Concerto No. 3" at Bard Conservatory and the Woodstock Playhouse. In addition, she was invited to perform as the oboe soloist in the Albinoni Oboe Concerto in dm with the Kairos Consort chamber orchestra. Ms. Rubin has performed the Haydn Oboe Concerto in CM with the Woodstock Symphony Orchestra at Bard in Red Hook, NY.
Ms. Rubin recorded the soundtrack for the film "Peace, Love and Misunderstanding" featuring Catherine Keener, Jane Fonda, and Chace Crawford (2011 release/Woodstock Film Festival). She has enjoyed performing with vocal ensembles such as the International Festival of the Voice in Phoenicia, Bronx Opera Company, Putman Chorale, Ars Choralis, Altamura Summer Opera Festival, SUNY Oneonta Opera, Kairos: A Consort of Singers, Bard Symphonic Chorus, Woodstock Playhouse Musical Theater, Bard Chamber Singers, and several operas in the Hudson Valley, New York area.

Allison is the oboist and founder of the Klezmerites (oboe, violin, bass, guitar/accordion, drums) and the Woodstock Wind Trio, (oboe, clarinet and bassoon). In Ulster County, Ms. Rubin founded a collective of oboists and bassoonists called AVIVA Double Reed Ensemble in 2015, mostly baroque and classical music ranging from duets to large ensemble. In 2013, Allison joined the Hartwick College Faculty Woodwind Quintet. For the 2011-2012 season, Allison was the oboist for the eclectic ensemble, "Madera Vox" (voice, oboe, bassoon, percussion, piano) based in the Hudson Valley area. She also has enjoyed playing with the Bella Woodwind Quintet in the Hudson Valley region. Allison's professional recordings include "Little Green Blackbird", Kirsti Gholson, "Songs of My People", Simon Wynberg, Narada Records; "Move People", The Paul Ruderman Band, PRB Records and "To Life", The Klezmerites, Tablemesa Records.

Allison Rubin performed Samuel Adler's "Oboe Sonata" in its New York City debut at the 92nd St. Y. For WQXR classical radio, Allison Rubin performed live "Teleman's Eb Major Sonata" for oboe and piano. In Lincoln Center's Alice Tully Hall, Ms. Rubin was the Assistant Music Director of "The Reincarnation of Mozart." This 1991 theatrical (Classical/Jazz) production was a fantasy-style music performance featuring trumpeter, Wynton Marsalis and members of Juilliard's Pre-College Orchestra. In June of 1989, Allison was honored to be invited to perform at Lois Wann's retirement celebration at The Juilliard School. Others performing that day included Ronald Roseman and Gerard Reuter. Chosen by her mentor, Lois Wann, Allison was invited to perform in Bert Lucarelli's concert, "Celebration of the 100th Anniversary of the Modern Oboe" at Carnegie Hall.

"100 Flowers" Kathryn Potter's composition released in 2012, is a book where 100 Flowers are portrayed with miniature to larger soli for oboe or English Horn. Some of the flowers are dedicated to certain oboists/English Hornists. Kathryn Potter chose to write one of the compositions for Ms. Rubin. As noted on the composer's April 20, 2011 blog: "I'm composing a Purple Iris for Allison Rubin who is also an "oboe daughter of Lois Wann" and gorgeous player. I feel a special oboe sisterhood with her and hear so much of Lois in her playing. She and I agree that the perfect flower in which to remember Lois is with the Gardenia – Allison's idea and I completely agree." quoted from Kathryn Potter.